- Updated on November 1, 2020
By Dr. Artour Rakhimov, Alternative Health Educator and Author
- Medically Reviewed by Naziliya Rakhimova, MD
Powerlung Sport Review
The PowerLung breath trainer is a breathing device used to train respiratory muscles by creating resistance that can be independently regulated for inhalations and exhalations. It has some similarities to the Powerbreathe, UltraBreathe, and Expand-A-Lung devices. The PowerLung was invented by Mr. Barry Jarvis who wanted to improve his sports fitness after a heart attack. Several small trials have tested the effects of the PowerLung on various groups of people, including young soccer players, cross country runners, intermittent sprint athletes, competitive

marathoners and triathletes, SCUBA divers, elite international swimmers, older females, and the elderly (see references below). The device became popular in many sports for improving fitness in swimming, rowing, triathlon, and some other sports, as well as for asthma.
Reviews and research pilot studies have found improvements in various measured parameters, such as higher VO2max (not in all studies), better lung function (PEF, FVC, and VEmax), lower heart rate for the same load, and some others.
These effects indicate that PowerLung influences automatic breathing patterns and body-oxygen levels by increasing alveolar and arterial CO2 during breathing sessions and after them. The PowerLung trainer has adjustable resistance and some additional dead space (leading to increased volume). However, the Training Mask (as well as other breathing devices including the Frolov breathing device, Samozdrav, Breathslim, and the Amazing DIY Breathing Device) have a larger extra dead space to trap exhaled CO2.
PowerLung for asthma, COPD, emphysema, and other diseases
The PowerLung trainer can be beneficial for people with chronic health problems (asthma, hypertension or heart disease, COPD, emphysema, cystic fibrosis, and so forth) when their body oxygen level is about 10-12 seconds or less, and they suffer from chronic hyperventilation.
PowerLung vs. Powerbreathe, Expand-A-Lung, UltraBreathe and other trainers
If we consider health benefits and changes in body-oxygen levels, it is wrong to compare PowerLung vs. Powerbreathe or Expand-A-Lung vs. Powerlung since it is how you use it, rather than what you use, that matters most for your health. However, one sports device has definite advantages due to increased dead space. More info about this device is below.
One of the hardest things for athletes and coaches is to realize that breathing patterns and body-O2 content at rest (before exercise) predetermine fitness, VO2max (endurance), and sports performance for any single person.
This graph below explains why the modern population is unfit, has low brain-and-body-O2 content, and suffer from diseases.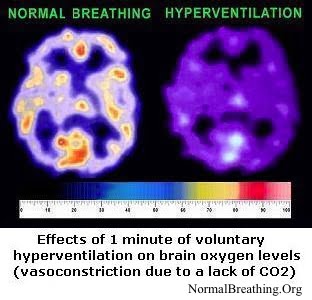 In order to achieve improvements in VO2max and other parameters of endurance and sports performance, the PowerLung breathing sessions could be made progressively more challenging with possible breath holds (e.g., after exhalations) for advanced users to further increase their alveolar CO2 and body-oxygen levels.
Application of correct lifestyle changes in order to improve body oxygenation is vital for long-term success in breathing retraining and getting additional benefits from the PowerLung trainer for sports, fitness, higher VO2 max, and better health. Review the links below for other devices and breathing-related effects.
For sport and elite athletes
There is one more effective breathing device that can be used continuously during exercise for up to 20-40 or more minutes mimicking training at high altitude. This device is used by Pete Jacobs, 2012 Ironman World Champion. You can find more details and the review of this device right below as your bonus content.
It is called the "Training Mask" or "Elevation Training Mask". Follow the link for its review.
[/sociallocker]
References
Four Weeks of Respiratory Muscle Training Improves Intermittent Recovery Performance but Not Pulmonary Functions and Vo2 Max Capacity in Young Soccer Players, Emre AK and Can Ozgide; Middle East Technical University, Department of Physical Education and Sports; Orta Dogu Teknik Universitesi, Cankaya, Ankara, Turkiye
The Effects on Pulmonary Function and Performance from Training Respiratory Muscles in Collegiate Cross Country Runners with PowerLung, M.M. Barnes, D.M. McGee, A.K. Butler and R. Galbreath, Dept. of Physical Therapy, Wheeling Jesuit University, Dept. of Exercise Physiology, Ohio University Eastern, Dept. of A.R. Physiology, Ohio Valley C & R Surgery
The Effects of Respiratory Muscle Training Program Effects on Performance, Dyspnea, and Respiratory Muscle Fatigue in Intermittent Sprint Athletes, Clay Nicks, Richard Farley, Dana Fuller, Don Morgan, FACSM, Jennifer Caputo, Columbus State University (Columbus, GA); Middle Tennessee State University (Murfreesboro, TN)
The Effects of Respiratory Muscle Training on Performance in Older Females, Watsford, M. L. & Murphy, A. J. (2008). Journal of Aging and Physical Activity. 16(3): 245-260.
The Effects of Respiratory Muscle Training on Older Females, Mark L. Watsford, Aron J. Murphy, Matthew J. Pine, Aaron J. Coutts. Human Performance Laboratory, University of Technology, Sydney.
The Effects of Respiratory Muscle Training on Maximal and Submaximal Cardiovascular and Pulmonary Measurements, William E. Amonette, BS, CSCS & Terry L. Dupler, Ph.D., Fitness & Human Performance Laboratory, University of Houston-Clear Lake, January 15, 2001.
Respiratory Resistance Training Increases Ventilatory Capacity in the Elderly, Nathan Andrew Trueblood, Earlham College, 2004
Respiratory Muscle Power Before and After Training (with PowerLung), Greg Wells, University of Toronto Respiratory Research Group, 2003
Five-week Respiratory Muscle Training Program Effects on Lung Function and Air Consumption in SCUBA Divers, Casey W. Fisher, Ann L. Gibson. Barry University, Miami Shores, Florida