- Updated on October 29, 2020
By Dr. Artour Rakhimov, Alternative Health Educator and Author
- Medically Reviewed by Naziliya Rakhimova, MD
Expand A Lung Review: Effects on VO2max, Fitness and Body O2
The Expand A Lung breathing resistance exerciser is a breathing device used to train the respiratory muscles by creating resistance that can be regulated. This is the smallest and most durable breathing trainer. There are several related devices including Powerlung, Powerbreathe, UltraBreathe and a few others with reviews (see the links to their reviews below). All of them are used mostly for fitness and sports performance, with some studies and popularity among COPD and cystic fibrosis patients.
All these devices, Expand A Lung included, improve the strength of the inspiratory (and sometimes expiratory) muscles. This is indeed the main (but superficial) result of such breathing exercises. As with other devices, the most important result – often overlooked – is the change in body-O2 content and automatic breathing patterns after weeks of training with the Expand A Lung.
First, let us review the key cause of poor endurance and low body-and-brain O2 content in the contemporary general population.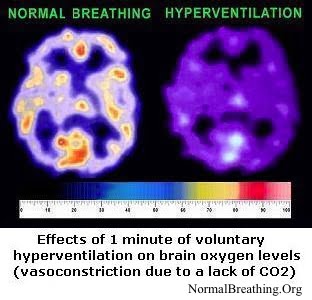 Expand A Lung can reverse this situation. For example, in one Swiss study, it was found that athletes, after breathing training, reduced their minute ventilation for a given exercise intensity. There is only one explanation for this effect: improved body oxygen level due to a slower and lighter breathing pattern at rest. This effect is based on the fact that exhalations with the Expand-A-Lung breathing resistance exerciser are passive or slow. This allows gradual accumulation of CO2. Hence, if we consider CO2 changes only, all these breathing trainers and devices (Powerlung, Powerbreathe, UltraBreathe, Expand A Lung, Frolov breathing device, Samozdrav, Breathslim, DIY Breathing Device, and many others) can be beneficial for higher body oxygen (see the test below), better health, and sport performance. Training Mask though offers one essential advantage: it can be used during exercise, for up to 1-2 hours per day (see the link to its review below).
Expand-A-Lung vs. Powerbreathe, PowerLung, UltraBreathe: Instructions
While many athletes may want to compare Expand-A-Lung vs. Powerbreathe or Expand-A-Lung vs. Powerlung, it is more important how you use the breath trainer rather than which one you use, while the safest and most effective device is Training Mask.You can get even more benefits from Expand-A-Lung or the other devices if you follow additional ideas related to your lifestyle factors (see the Learning Section) to increase body-oxygen levels 24/7. These are our certain Expand-A-Lung instructions.
Practical Expand A Lung instructions
The key to endurance, higher VO2max, focus and higher body-O2 content is to train your body to breathe less 24/7. Therefore, if you try to exhale even longer (with air hunger at the end) and hold your breath after exhalations during breathing exercises (for advanced students only), then you can get even more benefit from the Expand A Lung. If you attach a light plastic 0.25-1 L bottle (depending on your fitness) to the trainer, you can recycle your CO2 and can get more benefits from the Expand A Lung.
Even better results (for elite athletes and beginners) are possible with the Training Mask. Click for its review here.
Do you know that there are many clinical studies that measured effects of the Expand A Lung? The collection of these studies with their results are provided right below on this page as your bonus content. You can unlock it easily.
J Spinal Cord Med. 2008;31(1):65-71.
Effects of respiratory resistance training with a concurrent flow device on wheelchair athletes.
Litchke LG, Russian CJ, Lloyd LK, Schmidt EA, Price L, Walker JL.
The Human Performance Laboratory, Department of Health, Physical Education, and Recreation, Texas State University-San Marcos, San Marcos, Texas 78666, USA.
BACKGROUND/OBJECTIVE: To determine the effect of respiratory resistance training (RRT) with a concurrent flow respiratory (CFR) device on respiratory function and aerobic power in wheelchair athletes.
METHODS: Ten male wheelchair athletes (8 with spinal cord injuries, 1 with a neurological disorder, and 1 with postpolio syndrome), were matched by lesion level and/or track rating before random assignment to either a RRT group (n = 5) or a control group (CON, n = 5). The RRT group performed 1 set of breathing exercises using Expand a Lung, a CFR device, 2 to 3 times daily for 10 weeks. Pre/posttesting included measurement of maximum voluntary ventilation (MVV), maximum inspiratory pressure (MIP), and peak oxygen consumption (V(O2peak)).
RESULTS: Repeated measures ANOVA revealed a significant group difference in change for MIP from pre- to posttest (P < 0.05). The RRT group improved by 33.0 cm H2O, while the CON group improved by 0.6 cm H2O. Although not significant, the MW increased for the RRT group and decreased for the CON group. There was no significant group difference between V(O2peak) for pre/posttesting. Due to small sample sizes in both groups and violations of some parametric statistical assumptions, nonparametric tests were also conducted as a crosscheck of the findings. The results of the nonparametric tests concurred with the parametric results.
CONCLUSIONS: These data demonstrate that 10 weeks of RRT training with a CFR device can effectively improve MIP in wheelchair athletes. Further research and a larger sample size are warranted to further characterize the impact of Expand a Lung on performance and other cardiorespiratory variables in wheelchair athletes.
Boutellier U, Buchel R, Kundert A, Spengler C.
The respiratory system as an exercise limiting factor in normal trained subjects.
Department of Physiology, University of Zurich, Switzerland.
Recently, we have shown that an untrained respiratory system does limit the endurance of submaximal exercise (64% peak oxygen consumption) in normal sedentary subjects. These subjects were able to increase breathing endurance by almost 300% and cycle endurance by 50% after isolated respiratory training. The aim of the present study was to find out if normal, endurance trained subjects would also benefit from respiratory training.
Breathing and cycle endurance as well as maximal oxygen consumption (VO2max) and anaerobic threshold were measured in eight subjects. Subsequently, the subjects trained their respiratory muscles for 4 weeks by breathing 85-160 1 min.-1 for 30 min daily. Otherwise they continued their habitual endurance training. After respiratory training, the performance tests made at the beginning of the study were repeated. Respiratory training increased breathing endurance from 6.1 (SD 1.8) min to about 40 min. Cycle endurance at the anaerobic threshold [77 (SD 6) %VO2max] was improve from 22.8 (SD 8.3) min to 31.5 (SD 12.6) min while VO2max and the anaerobic threshold remained essentially the same.
Therefore, the endurance of respiratory muscles can be improved remarkably even in trained subjects. Respiratory muscle fatigue induced hyperventilation which limited cycle performance at the anaerobic threshold. After respiratory training, minute ventilation for a given exercise intensity was reduced and cycle performance at the anaerobic threshold was prolonged.
In Summary, the condition of the respiratory system is more important for endurance exercise performance of healthy trained subjects than hitherto assumed. Not only do respiratory muscles fatigue during intensive endurance exercise, but prefatigued respiratory muscles can also impair performance. In turn, respiratory endurance training can improve endurance exercise performance.
Claes E.G. Lundgren, M.D., PhD., professor of physiology and Biophysics in the State University of New IMPROVE ENDURANCE AND PERFORMANCE THROUGH RESPIRATORY MUSCLE TRAINING
York, UB School of Medicine.
This research was supported by the US Navy Experimental Diving Unit.
In this pioneering work, subjects who followed breathing resistance training improved their snorkel surface swimming time by 33% and their underwater Scuba swimming time by 66%.
"The above data is in agreement with previous studies in cyclist, rowers and runners. They suggest that athletes in most sports could improve their performance by undergoing respiratory muscle training. It is also clear that the greater the stress on the respiratory system , the larger the improvement in performance."
During high intensity exercise, when the breathing muscles become fatigued, the body switches to survival mode and "steals" blood flow and oxygen away from locomotor muscles. As a result, these locomotor muscles become fatigued and performance can suffer significantly.
Increasing the strength of the respiratory muscles through breathing resistance exercise can prevent this fatigue during sustained exercise situations. The end result is better performance!
F. Lötters, B. van Tol, G. Kwakkel and R. Gosselink
Inspiratory Muscle Training In COPD
Department of Public Health, Faculty of Medicine and Health Sciences, Erasmus University Rotterdam, Rotterdam, and Department of Physical Therapy and Research Institute for Fundamental and Clinical Human Movement Sciences, University Hospital Vrije Universteit, Amsterdam, the Netherlands. Department of Respiratory Rehabilitation, University Hospitals Leuven, Katholieke Universiteit, Leuven, Belgium
The purpose of this meta-analysis is to review studies investigating the efficacy of inspiratory muscle training (IMT) in chronic obstructive pulmonary disease (COPD) patients and to find out whether patient characteristics influence the efficacy of IMT.
A systematic literature search was performed using the Medline and Embase databases. On the basis of a methodological framework, a critical review was performed and summary effect-sizes were calculated by applying fixed and random effects models.
Both IMT alone and IMT as adjunct to general exercise reconditioning significantly increased inspiratory muscle strength and endurance. A significant effect was found for dyspnoea at rest and during exercise. Improved functional exercise capacity tended to be an additional effect of IMT alone and as an adjunct to general exercise reconditioning, but this trend did not reach statistical significance. No significant correlations were found for training effects with patient characteristics. However, subgroup analysis in IMT plus exercise training revealed that patients with inspiratory muscle weakness improved significantly more compared to patients without inspiratory muscle weakness.
Conclusions: From this review it is concluded that inspiratory muscle training is an important addition to a pulmonary rehabilitation programme directed at chronic obstructive pulmonary disease patients with inspiratory muscle weakness.
Paltiel Weiner, MD; Rasmi Magadle, MD; Marinella Beckerman, MD; Margalit Weiner, PhD and Noa Berar-Yanay, MD
Expiratory Muscle Training in COPD
*From the Department of Medicine A, Hillel Yaffe Medical Center, Hadera, Israel.
Background: There are several reports showing that expiratory muscle strength and endurance can be impaired in patients with COPD. This muscle weakness may have clinically relevant implications. Expiratory muscle training tended to improve cough and to reduce the sensation of respiratory effort during exercise in patients other than those with COPD.
Methods: Twenty-six patients with COPD (FEV1 38% predicted) were recruited for the study. The patients were randomized into two groups: group 1, 13 patients were assigned to receive specific expiratory muscle training (SEMT) daily, six times a week, each session consisting of 1/2 h of training, for 3 months; and group 2, 13 patients were assigned to be a control group and received training with very low load. Spirometry, respiratory muscle strength and endurance, 6-min walk test, Mahler baseline dyspnea index (before), and the transitional dyspnea index (after) were measured before and after training.
Results: The training-induced changes were significantly greater in the SEMT group than in the control group for the following variables: expiratory muscle strength (from 86 ± 4.1 to 104 ± 4.9 cm H2O, p < 0.005; mean difference from the control group, 24%; 95% confidence interval, 18 to 32%), expiratory muscle endurance (from 57 ± 2.9% to 76 ± 4.0%, p < 0.001; mean difference from the control group, 29%; 95% confidence interval, 21 to 39%), and in the distance walked in 6 min (from 262 ± 38 to 312 ± 47 m, p < 0.05; mean difference from the control group, 14%; 95% confidence interval, 9 to 20%). There was also a small but not significant increase (from 5.1 ± 0.9 to 5.6 ± 0.7, p = 0.14) in the dyspnea index.
Conclusions: The expiratory muscles can be specifically trained with improvement of both strength and endurance in patients with COPD.
[/sociallocker]